Dennis Rodman Diplomacy Brings JadedAid to North Korea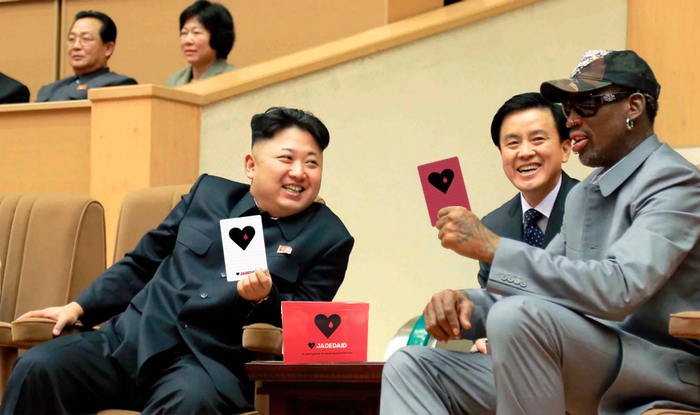 WASHINGTON, D.C. – For Immediate Release, April 1, 2017 – JadedAid is proud to announce that we are the official sponsors of Dennis Rodman Diplomacy, a new era in bilateral relations between the United States of America and the Democratic People's Republic of Korea.
President Donald J. Trump made the announcement earlier today that Dennis Keith "The Worm" Rodman will now be the special envoy for North Korea to assist the President in his historic meeting with Kim Jong-un, Chairman of the Workers' Party of Korea.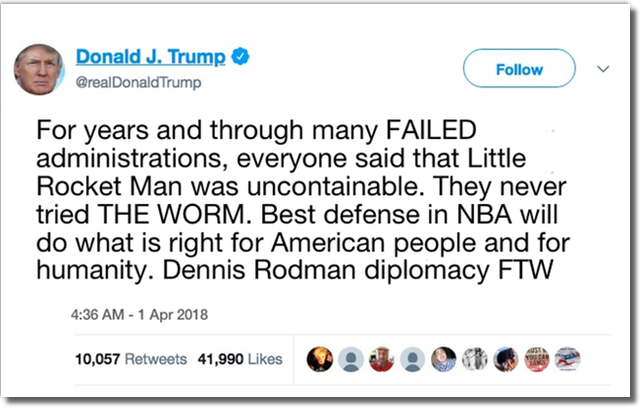 As Special Envoy to the Democratic People's Republic of Korea, Mr. Rodman will assume leadership of US-DPRK relations, fulfilling a key gap in State Department staffing.
Mr. Rodman intends to initiate North Korean negotiations with a more relaxed approach than previous overtures, seeking to build rapport with Chairman Jong-un in preparation for his historic meeting with President Trump through "Dennis Rodman diplomacy."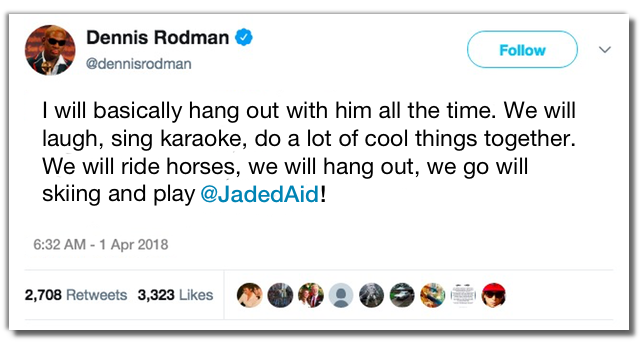 As part of his new role, Mr. Rodman will eschew previous support from PotCoin, a digital currency for the cannabis industry, Paddy Power, an online betting service, and "consultants", for his North Korean visits. Instead, Mr. Rodman will include playing JadedAid, a card game to save humanitarians, in his official duties.
"We are proud to support Dennis Rodman diplomacy," said JadedAid co-founder Wayan Vota, "He represents the true spirit of JadedAid – comedic tragedy in the midst of chaos. To celebrate, we are having a 20% off sale today in the USA and Canada, and proceeds will go towards realizing his unique style of bilateral negotiations."
Due to continued staff changes at the White House, including changes that may have happened during the publication of this press release, Mr. Rodman may have further duties not detailed here, including bringing peace to the Middle East.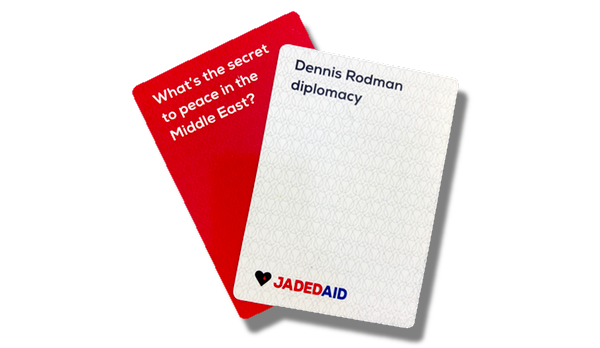 Posted in Card Stories and tagged April Fools, Dennis Rodman Diplomacy