Download 600 New JadedAid Cards Today!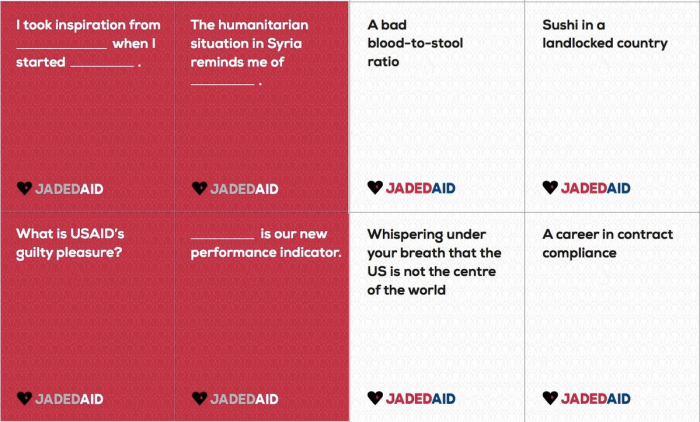 Finally, the day you've been waiting for has arrived! And it's better than diplomatic pouch privileges. After launching JadedAid in 2015 and creating Peace Corps expansion packs in 2019, we now got our act together to create a 600-card game for your enjoyment.
Download the new Print-at-Home PDF right now!
Every card in the new game is crowdsourced directly from international development workers just like you, and play-tested extensively to make sure you'll love each one just as much as unspent per diems. We strongly suggest you print them out on 80-pound card-stock paper so they'll last as long as Mugabe's rule.
This new 600-card game features 93 question cards and 507 answer cards that combine the best of the Original game, the Peace Corps expansion, and brand new cards that will have you laughing (or crying) all night long. Bonus: there are blank cards so you can add your own experiences to the game.
Oh and if you want to play with your friends who are far away, then play JadedAid online! You can use Zoom, Teams, or your favorite video conference system to creating laughter around the world.
Posted in Card Stories and tagged Innovation, JadedAid, JadedAid Play Party, Peace Corps