What Do JadedAid Card Suggestions Say About Development?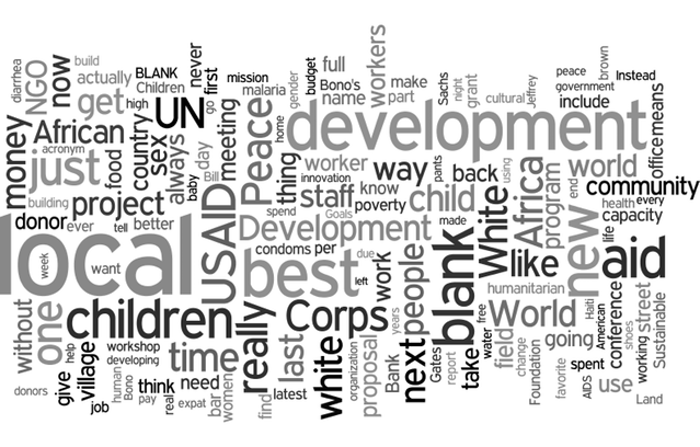 From the beginning we've thought of JadedAid as a project for and by the international development community to help us laugh at ourselves, and inspire positive change. We've crowdsourced card ideas through social media, on our website and at design parties in cities across the world.
So far we've received more than 3,000 card suggestions! It's incredible! We're all about data-driven decision-making at JadedAid so we looked for trends. We thought it would be fun to share a bit more about what we are seeing in the data.
Card suggestions tend to fall into two categories: 1) things you think are funny and 2) things you think are broken.
What's funny?
There's a clear winner, winner chicken dinner in your card suggestions – a universal experience that's always awkward, humorous, and talked about often.
Poop! 
Actually "poop" does not show up in the Top 100 words, but only because you've all been pretty creative in your phrasing, branching out with more descriptive terms such as "fecal sludge," "the shits," "human waste," "leakage" and "sharts." And then there are 12 different references to various types and uses of toilets and 8 references to Ciprofloxin.
Other than bodily functions, there are a ton of suggestions around malaria meds, selfies and sex (mainly with co-workers and/or in uncomfortable places like under a mosquito net).
What's broken?
When we created JadedAid, we wanted to help humanitarians laugh. We also hope that some of the cards can help us get better as an industry by catalyzing conversations about the things that are broken (see our Foreign Policy article).
Many of the card suggestions that you've made are clearly rooted in first-hand experiences and, in aggregate, we can see which of our shared frustrations rise to the top. So what are the greatest frustrations in development today? (according to our completely unscientific sampling)
The local-expat divide
"Local" and "white" are two of the most common words in suggestions. When we look at context, they are often used in ways that highlight difference – poking fun at those that attempt to cross the lines ("A muzungu in local clothing" or "Suddenly being attractive because you are white") or calling out development professionals who don't work to break down hierarchies ("As of today all local staff will be paid in ____________" or "White savior complex").
So we wonder: Where is that magic line between cultural appropriation and perpetuation of inequality? Food for thought.
Obsession with Buzzwords

No surprise, people expressed frustration with the buzz words in every development proposal, that often mean nothing – resilience, scaling, innovation! In many cases people just submitted the word alone. Others, however, drew attention to nebulous nature of the terms with suggestions like, "All along 'innovation' has actually been a code word for______." We can just imagine someone playing "T-shirts!" for the win!
Measuring Results
I think we'd all agree that results are important and making tangible progress is why we got into this business. However, there seems to be quite a lot of frustration around how the goals are set and how they are measured. There are countless submissions on the Sustainable Development Goals, Millennium Development Goals, log frames, and indicators.
Some seem to point to a feeling that our industry isn't focused enough (like "SDG #1,237: Improve women's access to _______") or that most development projects are measuring the wrong things ("Measuring time as an indicator") just to have something to report.
Other Issues

Other smaller themes included a dislike for amateur development ("Voluntourists" or "Teaching English with 2 weeks training"), exploiting images for personal or organizational gain ("Helpies – selfies to brag about helping" or "Pictures of women for the donor report") and, our favorite, Bono and Angelina Jolie.
What Does It Mean?
Some of these findings might not surprise you. After all, sometimes the data tells us what we already knew. But knowing doesn't change things. We hope that when you play JadedAid with friends and colleagues, you'll take a moment to reflect about how we can address these issues.
Posted in Card Stories and tagged Donor Echo Chamber, Innovation, M&E, Theory of Change