Woohoo! We are on Amazon and Giving Away T-shirts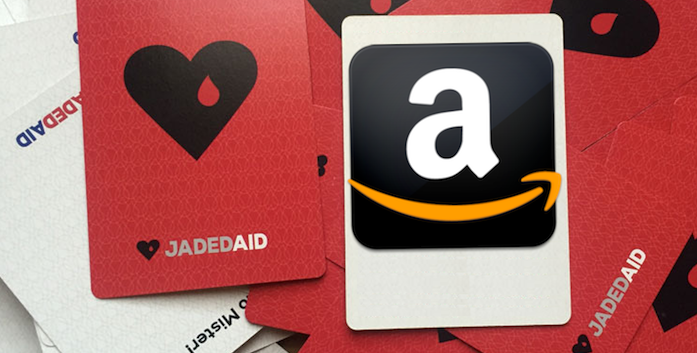 Since launching our Kickstarter in October of 2015, we've sold over 3,000 JadedAid card games to people around the world. Yet we are still asked if JadedAid a legitimate card game. Maybe this will convince the naysayers: JadedAid is now on Amazon.com
Yet we're not content with any normal Amazon listing – we have to assure sustainability with a razor sharp focus on humor too. So be sure to check out our product reviews. You'll find hilarity like this:
I'm using it as a litmus test for friends / colleagues / random expats.
Outcome 1: Obsession verging on mild addiction? No way! Me too! Drinking buddies forever.
Outcome 2: Badly concealed shock and disapproval? I'm taking bets on your eventual self-righteous meltdown.
This card game reminds me of the hours I spent in the village collecting roaches for protein: fast, fun, invigorating, and crunchy!
We're Sponsoring a Review Contest
Do you enjoy JadedAid? Would you like a cool JadedAid t-shirt? Then leave an Amazon review and tell us the transformational impact JadedAid has on your life. Bonus points to those who use JadedAid cards in their review.
I used to be content with finding the closest workshop venue to the capital that qualified for per diems, but after playing JadedAid, I am so much better at pleasing the donor at any cost.
We'll be giving away a t-shirt to the best review on July 1.
So what are you waiting for? Be sure to leave a review and let the world know how JadedAid has changed your life!
Posted in Featured and tagged Amazon.com, Contest, T-Shirts