The Story Behind JadedAid T-shirts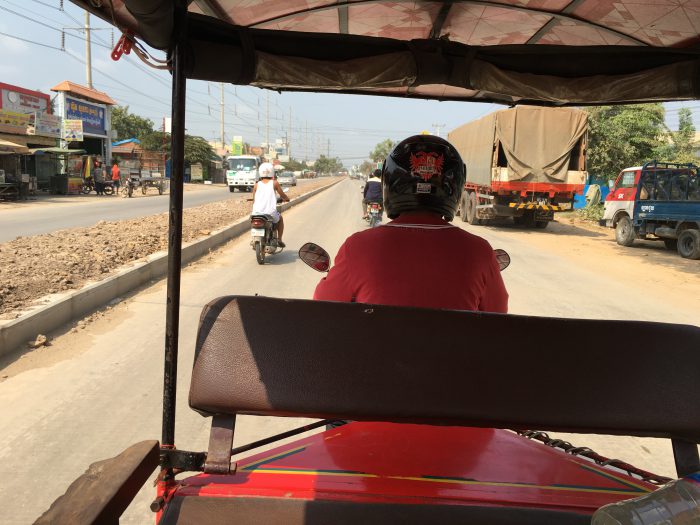 Since this is JadedAid, we didn't just go to some print shop in the USA. Nope. We went straight to a t-shirt capital of the world – Cambodia! – where we sourced them directly from a family factory.
JadedAid Co-founder, Jessica Heinzelman, was in Phnom Penh earlier this year. She'd done all the touristy things on previous trips and wanted a new adventure!  Next thing you know, she was spending her Sunday driving 45 minutes out of Phnom Penh with her trusty tuk tuk driver, Mr. Hour, down a long and very dusty road to a family home/t-shirt factory.
When she arrived Piden, the proprietor, greeted her and ushered her past some busy workers cutting and sewing.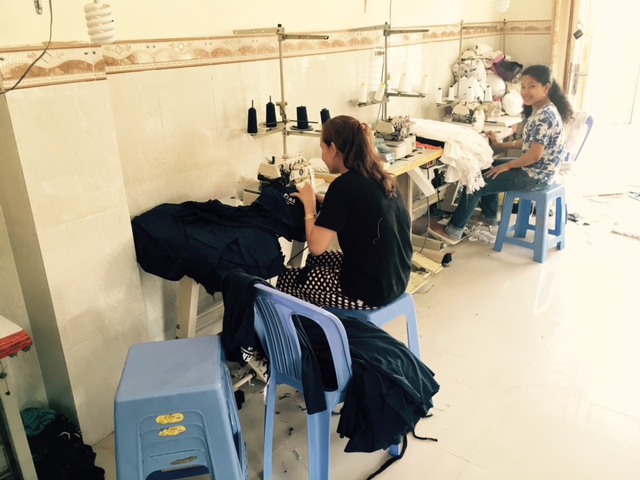 They ascended up the back stairs to a wall of material. Jessica felt each one, as if she was a t-shirt cloth expert (she was the expat after all!) and compared colors in the light-filled room. She chose a red that closest matched the JadedAid box, and a grey for those that don't find red to be their color. Piden swore all the cloth was scraps from a North Face garment factory….hmmmm?
As Jessica went back downstairs, she marveled at one of the women operating an amazing tool that is best described as a t-shirt saw that allowed her to cut up to ten layers of t-shirt at one go.
She then discussed timeline and Piden brought out "the boss" to work out the money. Unsurprisingly, "the boss" turned out to be his wife, a small woman armed with a calculator. Jessica then paid 30% down to get production started and left in her dusty tuk tuk. Piden kept us updated and sent pictures of some early shirts to make sure he was on track.
Just one week later the t-shirts were all packed up ready for delivery.
Jessica paid in full and the only thing left to do was…figure out how to get 500 t-shirts home. Who knew you need a license to export t-shirts from Cambodia? Time to smuggle!
Thanks to the generosity of friends and colleagues that will eventually carry them back, JadedAid t-shirts will cross the Pacific in waves. 
So… We know you want one! As long as they are available, there are two ways to get JadedAid t-shirts!:
Win One! Post your favorite pics of JadedAid play to our Facebook page. Each month we'll choose two winners who will receive a JadedAid t-shirt (color of your choice) with free shipping to USA-based winners.
Buy One! Can't wait to win one? Buy a red one or buy a grey one now on JadedAid.com for $19 plus shipping – the best accessory for playing JadedAid. We have two color choices and all the sizes you need.
Note: Sizes run smallish so buy a size bigger than you think you need! The fabric and fit are nice, though so you'll look gooooooood!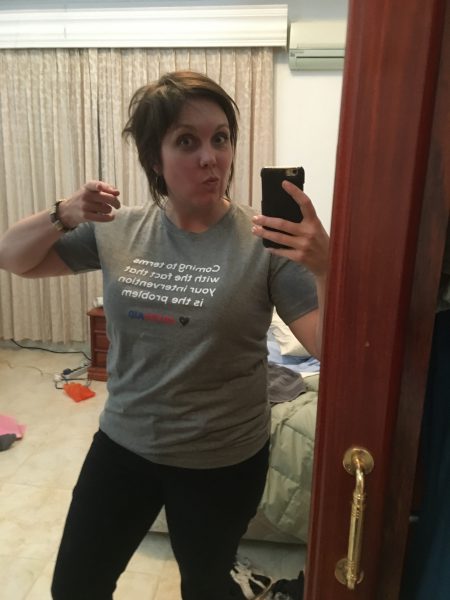 Posted in Featured and tagged Ghetto Tourism, JadedAid tee shirts, T-Shirts