When Your Theory of Change is a Crock of Sh_t – JadedAid Card Stories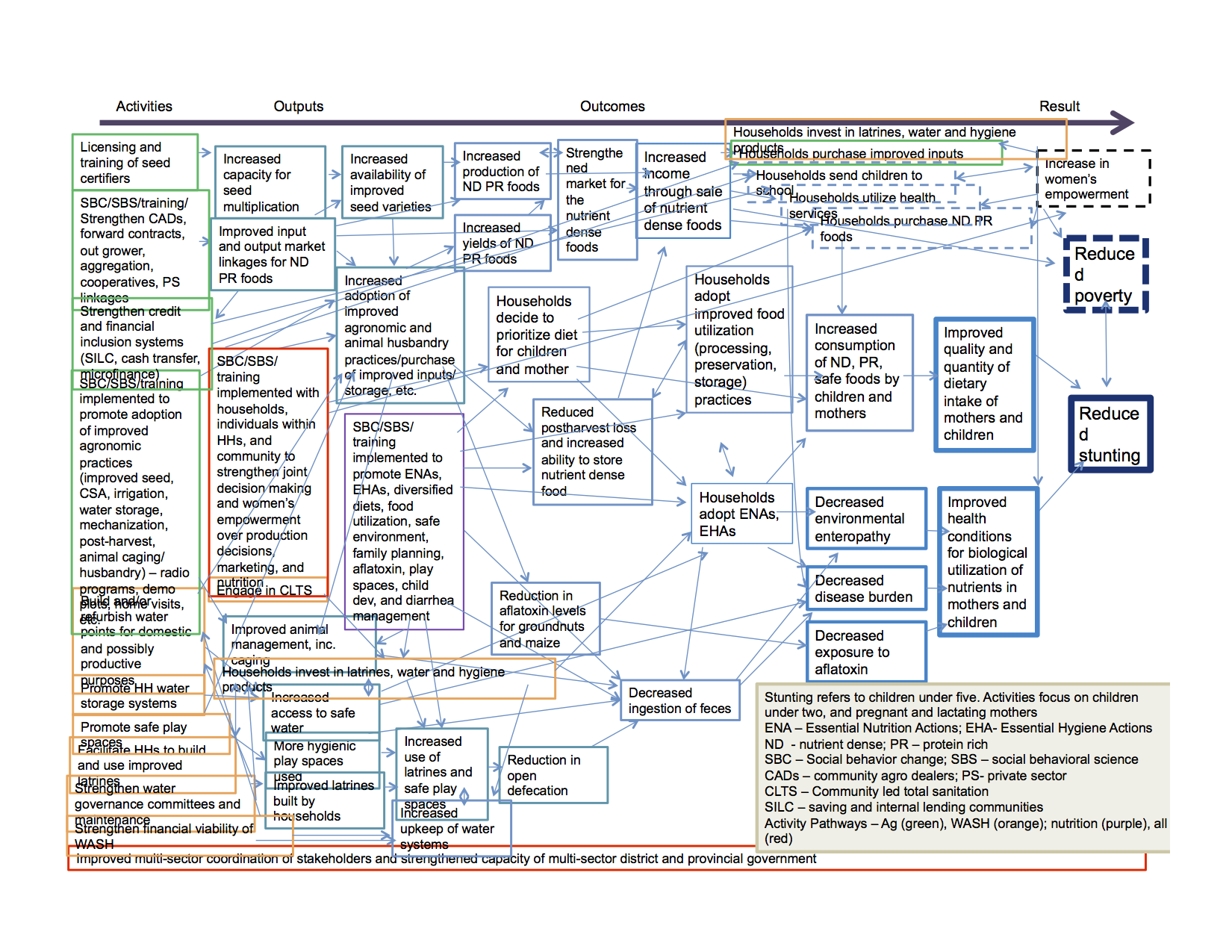 I hate the "Theory of Change" concept. It is supposed to require stakeholders to model their desired outcomes before they decide on forms of intervention to achieve those outcomes, and make the distinction between desired and actual outcomes. But that's not how they're used.
The Tyranny of Theory of Change
Instead, we are typically forced to write a Theory of Change by a donor who thinks they are a great way for us to show causality (the one above is an actual USAID graphic!). How a random Activity A will surely lead to Outcome B. As if development, or life in general, was that clean, obvious, and linear. It is not.
How arrogant of us to assume a workshop here or a text message there is going to have any real, lasting impact, if we don't also change the power dynamics that created whatever situation we are currently trying to change. But that's not how the game is played.
Instead, we come up with these awesome charts and graphs that are really a pretty M&E plan, then we do our best to fit the reality of life into little boxes connected by cute arrows.
At the same time, we know our Theory of Change is really a crock of sh-t. Hence the JadedAid card.
Enough is Enough!
Its time we stop playing this donor darling game, and push back on Theory of Change fantasies. Better would be more adaptive, dare I say "agile" program design that recognizes that communities have their own agendas, their own progressions, and for the most part, we are along for the ride.
I for one, am done. I declare a Theory of Change Moratorium!
I'll never write another Theory of Change again. Um, well, as soon as I finish responding to this USAID RFP with a innovative ToC innovation…
Posted in Card Stories and tagged Donor Echo Chamber, M&E, Proposal, Theory of Change, USAID