Last Chance to GIZ in Your Friend's Stocking this Christmas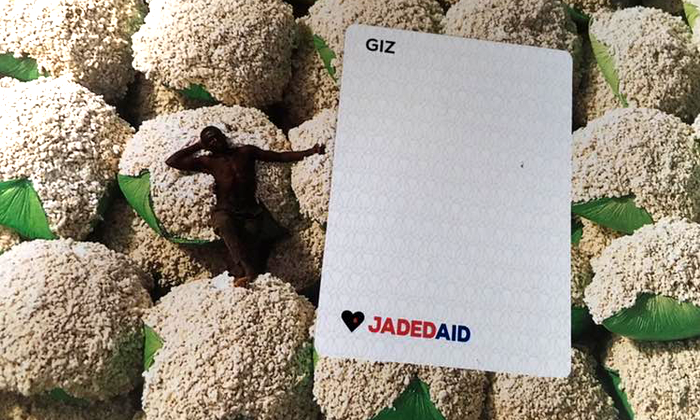 In 2011, the German development agency changed its name to Gesellschaft für Internationale Zusammenarbeit, or GIZ.
Like you, my colleagues and I were stunned. Had the Germans really failed to recognize that GIZ was a homonym for the slang term for male ejaculate? Had they no culturally fluent English speakers in their communications department?
Our horror soon turned to feverish fun by coming up with taglines such as…
GIZ: Relief at its finest
GIZ: Sowing the seeds for a better life
GIZ: Touching people everywhere
GIZ: Lending a hand
GIZ: Well endowed and willing to go all the way
GIZ: Development that trickles down
GIZ: Making development sexy again
Now its your turn to squirt out hours of GIZ – with JadedAid!
Christmas Sales Specials
Order now to get JadedAid at its lowest price ever! We're selling the last of our games at rock-bottom prices. Once these games are gone, you'll never be able to get the full game again!
Order Now for Xmas Delivery!
You must order your games or shirts this week to receive them by December 24th in the USA or Canada. International shipping times vary, and sooner is way better!
Posted in Card Stories and tagged GIZ