Guess Who Won Our Best Amazon Review Contest for June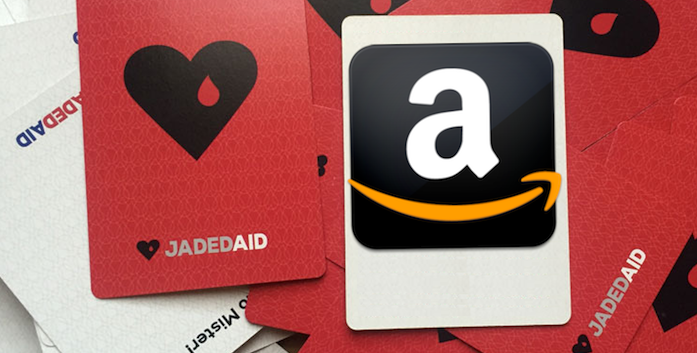 Ever since we debuted the JadedAid original card game on Amazon.com, we've been enjoying the reviews that you have submitted so far. You all have serious creativity, probably while hitting the village hooch!.
June 2016 Amazon JadedAid Review Winners!
We took some time to read through June's submissions. After snorting beer through our noses, we selected two JadedAid T-Shirt winners. Cards down our two favorite reviews were from Siobhan Green and Sare.
Sare
I'm using it as a litmus test for friends / colleagues / random expats.
Outcome 1: Obsession verging on mild addiction? No way! Me too! Drinking buddies forever.
Outcome 2: Badly concealed shock and disapproval? I'm taking bets on your eventual self-righteous meltdown.
Either way, it's hilarious.
Siobhan Green
I have never finished a game, as I collapse in both laughter and shame before getting to the end…
Submit your comment and win!
While we liked this month's short and sweet reviews, we're a sucker for longer Amazon reviews too, especially if you add photos (hint, hint).
Be sure to write your own review on Amazon and be a contender for free JadedAid T-Shirt swag – available in USAID Branding Guide Red and Brixit London Gray – to rock your next staff meeting, cluster meeting, or drunken meetup!
Posted in Amazon and tagged Amazon, Amazon reviews, JadedAid, JadedAid tee shirts