Driving the Development Conversation with JadedAid
When we first envisioned JadedAid, we thought we'd make a fun little game we could play with friends while we shared a few beers. Along the development process, we realized that JadedAid had the potential to catalyze real transformative dialog at various development institutions and industry confabs.
JadedAid isn't just a distraction to keep you from remembering how many beers you (probably shouldn't have) had, it is a prism into our everyday frustrations as worker bees in the DIC.
In April, I gave a talk at Switchpoint, the premier collision point of dialogs on "humanitarian innovation, global health, and technology." The title of my talk was "JadedAid, jargon, and real innovation." But I decided to deviate slightly from the topic to focus on the personal.
As I've talked about in a previous Card Story, we all have a role to play in making the world a better place. However, it continues to be the case that there are limited roles for members of the Global South to have meaningful careers and roles in international development.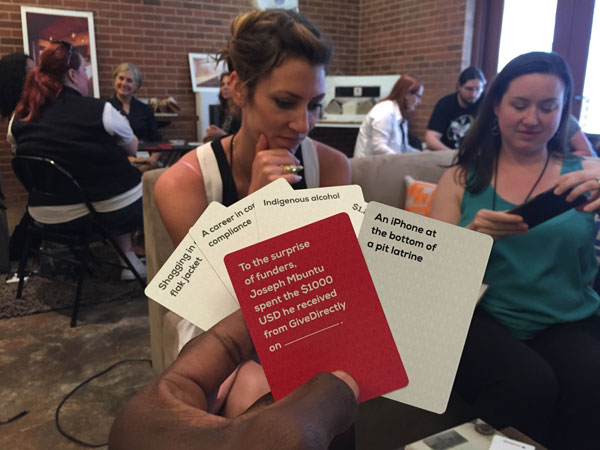 One of the cool things that happened later in the day in the break out sessions was how organizations and practitioners in speak and represent the work that they do. A lot of the themes our game touches on are around how we communicate the work that we do. Do we insert ourselves into the story, as the voice for a cause or are we there to elevate local capacity and voices that are actually working on those issues?
It was a great discussion and an opportunity to watch communications professionals at high powered aid organizations grapple with their organizations mode of communicating and representation.
If you haven't yet, have a watch and let us know what you think.
Posted in Card Stories and tagged JadedAid, Switchpoint, TMS Ruge, Workshop