Use Your JadedAid T-shirt to Get Laid on Tinder!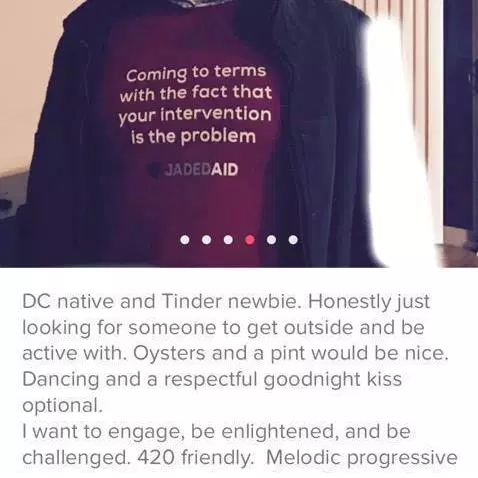 The holidays can be a lonely time for us all. One innovative guy in DC has a solution… JadedAid t-shirts can get you laid! Our monitoring & evaluation team has not been able to verify the success of this intervention, but we think it is promising.
Our current theory of change: Cold weather + holidays + JadedAid t-shirt = Some lovin'
For best results, we recommend wearing JadedAid t-shirts to the gym with all of your other USAID and donor-sponsored apparel and to events where copious amounts of alcohol will be consumed.
If you really want to impress, make sure you brush up on the JadedAid t-shirt backstory so you can woo your mate of choice with your deep JadedAid knowledge. Let us know how it goes!