That Time We Asked USAID for $1 Million in JadedAid Funding…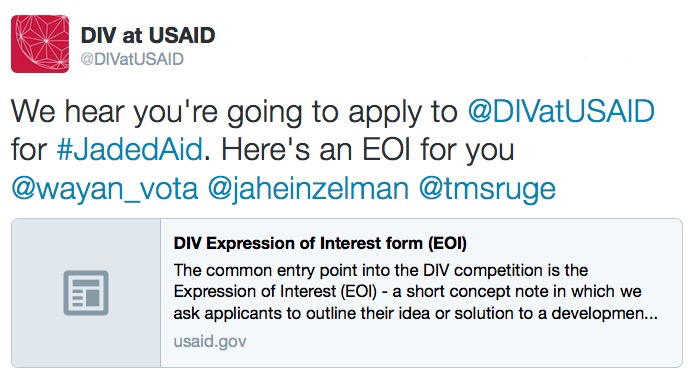 Deep in the midst of our Kickstarter last year, we got a cheeky tweet and decided to submit a crowdsourced proposal to USAID's Development Innovation Ventures (DIV) funding mechanism that runs a year-round competition for innovative innovators innovating innovation.
Our proposal was pure JadedAid, and included zingers like:
G. Explain how you intend to assess the innovation, given your stage and scaling path (e.g.. how you will assess proof of concept, commercial viability, causal impact and cost effectiveness, etc.)
Through the proven JadedAid methodology, which includes a triptych of feigned optimism, cynicism, and alcoholism, humanitarians will be able to access intrinsic innovation and motivation resources, such as trying to pee with an audience of children or successfully navigating the World Bank's online proposal submission interface.
Contrary to our previous experience with US Government procurement processes, DIV's response was lightening fast and, wow! Their determination letter is epic.
We've been holding on to this for just the right moment… so with the primary season wrapping up and Jimmy Fallon slow jammin' Obama's contributions, we're joining in to celebrate the creativity, humor and innovation that the current administration has brought to DC!
Below is their response to us, verbatim.
We love you, DIV! – Jessica, Wayan & Teddy
---
We're done pleasing the donor at any cost!
Be sure to download the PDF now  to ensure our sustainability.
---
From: DIV Applications (USAID)
Date: Tue, 27 Oct 2015 16:59
Subject: An Update on the Status of Your DIV Expression of Interest (EOI)
Dear JTW Productions,
Thank you for your application to the Development Innovation Ventures program. We appreciate you taking the time to review our solicitation and submit a response.
Unfortunately, your project was not selected for award. Organizations are able, however, to address deficiencies and re-apply with a new Expression of Interest (EOI). There is no deadline for EOI submission, because DIV is now on a rolling application process. Please note that, due to the competitive nature of the process, addressing the weaknesses provided in the debriefing below does not guarantee acceptance in subsequent rounds.
Please see below for strengths and weaknesses noted by DIV.
*Evaluation Factor 1: Cost-effective Innovation* Potential to address a significant development challenge in a cost-effective way.
Factor 1 Rating: Good – Meets requirements. While the applicant demonstrates an ability to complete the work in some areas, there are some significant deficiencies. However, these combined weaknesses still represent a manageable performance risk.
*Evaluation Factor 2: Monitoring and Evaluation* Ability to generate data or evidence to prove development impact.
Factor 2 Rating: Meh. Fair – Minimally meets basic requirements or demonstrates a limited understanding of the requirements. Implementation of the proposed project would likely lead to unsatisfactory performance. Contains deficiencies and significant weaknesses that may negatively affect performance.
*Evaluation Factor 3: Implementation and Scale Plan* Potential to scale operationally and sustain activities beyond USAID financial support
Factor 3 Rating: Fair – Minimally meets basic requirements or demonstrates a limited understanding of the requirements. Implementation of the proposed project would likely lead to unsatisfactory performance. Contains deficiencies and significant weaknesses that may negatively affect performance.
*Evaluation Factor 4: The Team* Capacity of the Innovator/Innovation Team to successfully implement the innovation
Factor 4 Rating: Very Good – Demonstrates overall competence, meets all minimum requirements and exceeds requirements in some areas but not all. Despite some identified weaknesses, the applicant demonstrates that it can successfully complete all deliverables in a timely, efficient, and economical manner.
Strengths
Potential impact could be more than Teddy Ruge's 14,100+ Twitter followers or all of the people Wayan Vota reaches in his first-class cabin using his 100K status. We also see this as a direct call to improve our Twitter game. We will tell our full-time, adult colleague who runs our Twitter handle to step it up.
The application used the word "triptych" in a sentence. Clearly someone on your team has been waiting for years for an opportunity to do that. So, bravo.
Correct usage of the word "schoolchildren" in the phrase "iPad for schoolchildren" instead of the improper deployment of a space between "school" and "children"
There is a strong pathway to scale, though perhaps in the wrong market — we would all buy this. Some of us may have secretly already supported the Kickstarter. Don't tell anyone.
Weaknesses
The application could be strengthened with improved evidence of assumptions supporting the theory of change. While the development professionals contract-management experts reviewing this application appreciate any and all opportunities to consume alcohol, it is unclear whether belly laughter or soul-crushing despondency will result from daily reminders of the inner workings of the Development-Industrial Complex.
Please submit a mitigating and monitoring plan for the risk of soul-crushing despondency in beneficiaries. The mitigating and monitoring plan must include several subscriptions to wine of the month clubs to be delivered weekly to Washington, DC.
The Expression of Interest submitted includes neither glossy, well-lit photos of smiling beneficiaries nor helpies with said beneficiaries. Small et. al 2007 has shown that well-lit photos and helpies generate more funding than text-based, and data-driven presentations of complex, global problems. Therefore, the inclusion of well-lit photos would better demonstrate your commitment and ability to address your theory of change and would strengthen your application.
Please include a Results Framework that clearly lays out the vision, goals, objectives, sub-objectives, results, intermediate results, sub-intermediate results, proxy-sub-intermediate results, surrogate-proxy-sub-intermediate results, outcomes, incomes, outputs, inputs, underputs, and sideputs for your activities, with outyear targets for 1 year, 2 years, 5 years, 10 years, and Saved By the Bell: The College Years.
Please describe how the JadedAid methodology is "proven". What are the results from your pilot test? How is "feigned optimism, cynicism, and alcoholism" measured among beneficiaries? Furthermore, the application lacks sufficient evidence the cards are truly effective at convening the capacity building sessions. The application would be strengthened with sharing data and tangible results of the pilot test (published research paper, youtube video, facebook photos, etc.).
The pathway to financial sustainability is not clear. The applicant relies on the assumption that aid workers will continue to buy and use the game and periodic card expansion packs. This does not adequately account for development fad fatigue. Is JadedAid more than just the flavor of the week?
We appreciate your references to new technology platforms such as The Facebook and Kick Starting. However, we have recently been told that the Youths are using Snapchat. We don't know what that is, but please find a way to incorporate it so we can tell our bosses that we are on the cutting edge. Cutting Edgeness will be assessed in our Annual Evaluation Form personnel assessments.
It was noted that "JTW Productions" sounds like a company name made up by a wannabe music entrepreneur with a microphone and Macbook set up in his mom's garage. Please ensure that all appropriate systems to receive US Government funding, including: registration at www.sam.gov, audited financials as described by OMB Circular A-133, NCAGE, DnB, GarageBand for Mac, and compatibility with Microsoft Internet Explorer 95.
Too many hyperlinks in the application. Not enough youtube videos of cats, which some scientists claim lead to increased happiness and boosted energy.
We appreciate your time and effort, and will happily accept a EOI from your organization if you decide to resubmit. Should you resubmit, you are encouraged to complete certifications and audits to ensure that you are in compliance with the Fly America Act, the Cargo Preference Act, the Paperwork Reduction Act, the Whiskey Act of 1791, the Guano Islands Act of 1856, the Sister Act, the Sister Act II, and the Ryan Gosling Eat Your Cereal Act.
Warm regards,
DIV Team
*  These comments reflect the views of a lowly contract management specialist on the DIV team who is technically employed by a USAID contractor who shall remain unnamed and do not reflect the views of USAID, the Global Development Lab, or any programs contained therein. We appreciate your sense of humor, we hope you'll appreciate ours. But on the real: this is a formal notification that your application has not advanced to the next stage in our selection process and will no longer be considered for funding.
Posted in Featured and tagged DIV, Funding, Our Proposal Win Themes, USAID