Getting Your Vibrator Confiscated at the Airport – JadedAid Card Stories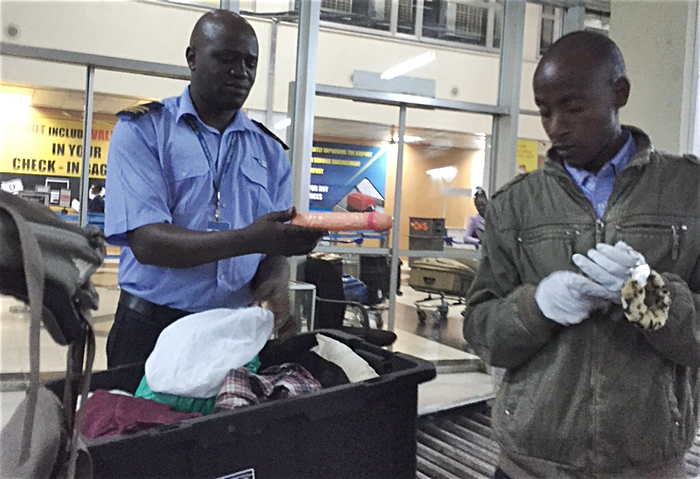 Women working in development are fearless. Our families and friends marvel at our courage to travel around the world, making small talk at holidays with questions such as, "Are you afraid of anything?"
The answer: Yes!
We may not be afraid of being kidnapped by rebel leaders or contracting Zika, but there is one fear that nearly every female development worker has had… airport security officials finding your sex toys.
When Airport Security Finds Your Sex Toys
Yes this actually happened: Ugandan officials found a huge dildo and leopard fur handcuffs in a development worker's bag at Entebe International Airport. Hence the JadedAid answer card, "Getting your vibrator confiscated at the airport."
Download JadedAid Cards Right Now!
A fundamental rule of humanitarian work is you must take care of yourself in order to take care of others. Whether stuck in a compound in Afghanistan or just taking a long and lonely trip to the bush (heh heh), a vibrator or dildo can be the difference between becoming the crazy bitch that derails the project or a chilled out leader that gets shit done.
Take care of your human-itarian needs first and foremost!
While there is no shame in traveling with handy self-help tools, no one wants to have their toys paraded in front of a line of impatient travelers (which may include coworkers)! So we at JadedAid have compiled a list of 5 things you can do to mitigate against unfortunate airport discoveries…
Check dildos longer than 7 inches. Larger toys can trigger TSA's rule against carrying on "hand tools" longer than 7 inches in length that can be used as a baton or club.
Invest in a more discrete devices. If you travel a lot, consider purchasing toys that will fly below the radar such as a lipstick bullet vibe.
Take the batteries out. Nothing will draw attention to your bag like an audible buzzing sound or mild vibration. Duh.
Bag it. Put your dildo in a clear plastic bag. Even if it is discovered, you'll avoid that uncomfortable look on the Ugandan official's face indicating he regrets leaving his latex gloves in the break room.
Send yourself a care package. If you have diplomatic pouch privileges mailing your toys may be the best option. Especially in countries where sex toys are illegal.
Of course, if your sex toys do get confiscated, well there's always the fall back plan: going local with a well-hung Senegalese boyfriend.
Posted in Card Stories and tagged Airport Security, Dildo, Handcuffs, Sex Toys, Vibrator