Whispering Under Your Breath: USA is Not the Centre of the World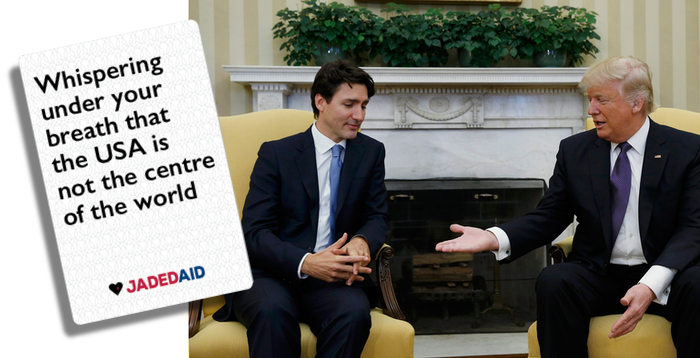 Oh Canada! You are such a marginalized country in the international development area. You need a good JadedAid game to come to terms with your two tiny efforts – IRDC and Global Affairs Canada – that are openly mocked by your much larger southern neighbour.
IRDC has a noble aim to support researchers around the world, and kudos to that. However, with a funding stream of only $195 million (and that's Canadian dollars no less!), may those researchers win a research grant to find evidence that evidence-based research for policy makers is used by policy makers to make evidence-based policy.
Global Affairs Canada was previously called CIDA, and was so small that it was often mistaken for SIDA, till it became DFATD, which if pronounced "D-Fat-D" at least sounded like a cool rapper. Sadly, its now rolling with the bland Global Affairs Canada, which sounds like a great code name for an in-kind donation of hookers and coke.
That's why we love the JadedAid card, "Whispering under your breath that the USA is not the centre of the world," which was given to us by a proud member of Global Affairs Canada.
Now if Canadians would only love JadedAid…
The Last JadedAid Games
We still have JadedAid Card Games on Amazon Canada – the only games left on Amazon anywhere in the world, waiting for you to buy them and prove to the world that you do matter.
For everyone else, we have only 20 JadedAid games left for worldwide delivery. Once they're gone… Well don't laugh too hard at Canadians, you'll have to beg them to buy them for you from Amazon Canada.
Posted in Card Stories and tagged Amazon, Canada, JadedAid